LAKE SUPERIOR & ISHPEMING
THE LAKE SUPERIOR & ISHPEMING MAIN LINE RUNS FROM MARQUETTE,MICH TO REPUBLIC ,MICH. ABOUT 45 MILES. THEY ALSO HAVE A LINE FROM EAGLE MILLS TO THE TILDEN MINE. MAJOR YARDS ARE WEST YARD IN MARQUETTE,MI AND EAGLE MILLS YARD IN NEGAUNEE,MI. ENGINE AND CAR SHOPS ARE LOCATED AT EAGLE MILLS, AS IS THE CONTROL TOWER FOR THE RAILROAD.
THE LS&I TILDEN JOB WILL BRING EMPTY ORECARS FROM EAGLE MILLS TO THE MINE AND LOAD UP TWICE PER SHIFT. THE LS&I "WEIGHER" SHIFT AS LOADS ORECARS AT THE TILDEN MINE FOR WISCONSIN CENTRAL SINCE WC IS NOT ALLOWED INTO THE TILDEN MINE. THE WEIGHER WILL EXCHANGE THE ORE CARS AT PARTRIDGE YARD FOR SORE 1. WC WILL THEN HAUL THE ORECARS TO ESCANABA,MI FOR LOADED ONTO OREBOATS FOR ALGOMA STEEL.
THE LAST JOB IS CALLED THE DOCKJOB, THEY USUALLY STATIONED IN MARQUETTE AT WEST YARD AND SWITCHES THE WEST YARD AND WILL ALSO WORK ON THE DOCK. WHEN THE LS&I IS RUNNING A SLOWER SHIFT, THEY WILL DO BOTH THE DOCK AND HILL JOB IN ONE SHIFT, THIS IS CALLED ; DOCK/HILL JOB.
FOR THE LS&I ROOSTER; U30C, # 3003, 3004, 3005, 3006, 3008, 3009, 3010, 3011, 3051, AND 3053. FOR THE C307 UNITS, # 3071, 3072, AND 3074
NEWS/OPERATIONS
UPDATE; 5-26-06
got a few photos of the ls&i ore dock this past week. also caught ls&i 7 weigher at partridge yard with 45 vans in tow.
5-26-06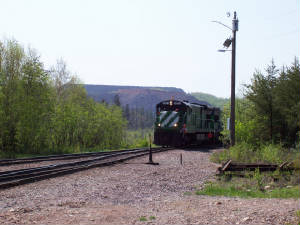 LS&I 7 WEIGHER ENTERING PARTRIDGE YARD
5-26-06
LS&I 7 WEIGHER ENTERING YARD
5-26-06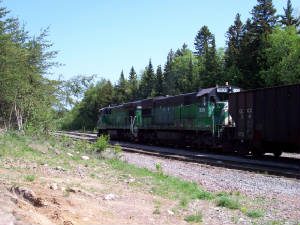 ls&i 7 weigher in yard at partridge
5-22-06
LS&I ORE DOCK
4-18-06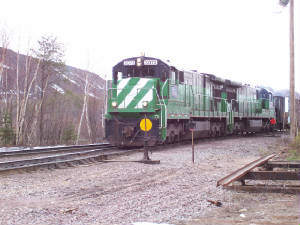 LS&I 7 WEIGHER AT PARTRIDGE